Gardening is a popular hobby that can be both enjoyable and rewarding. Unfortunately, garden soil may be susceptible to infestation by various bugs. These pests can cause damage to plants and create an unpleasant experience for the gardener. To restore the garden's health and beauty, it is important to understand how to get rid of bugs in garden soil. This article will provide an overview of effective strategies to eliminate these pests from the soil in a safe and efficient manner. Bugs can be a problem outdoors or even on indoor plants so it is important to to watch for pest problems that could harm your beautiful garden and even the common houseplant pest infestations.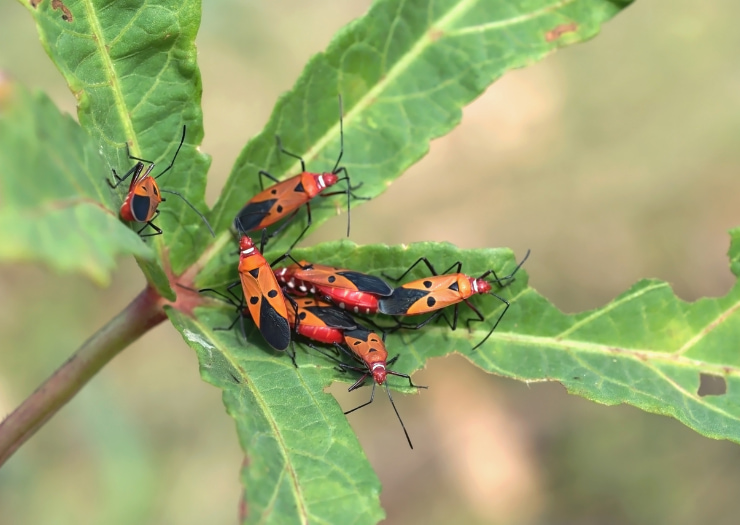 First thing first…
The first step in controlling bug infestations in garden soil is identifying which type of bug is present. Different species of bugs require different methods of removal, so it is important to have a clear understanding of the culprit before any action is taken. Visual inspection can help determine the type and amount of pests present, as well as their level of activity. Additionally, certain products such as traps or insecticides may be used for identification purposes.
Once the type of bug has been identified, appropriate methods can be employed to eradicate them from the garden bed. Various control options are available depending on the type of insect involved and its level of activity in the soil. Physical removal techniques such as hand-picking or tilling may prove effective against small numbers of bugs, while chemical control measures like insecticides may be necessary for larger infestations.
Additionally, biological controls such as predatory insects or nematodes may also be used to reduce pest populations without harming beneficial organisms in the soil ecosystem. You can find an organic pesticide, recipes for DIY insecticides and even insecticidal soap that can be great options depending on the infested plant. You will want to make sure whatever methos you use is safe if you are trying to rid a vegetable garden of pests as you want your food to be 100% safe to eat. We want to make sure when we look for ways of how to get rid of bugs in garden soil we are doing everything safely. 
Identify The Pest Problem
The first thing to do is to identify the pest problem in a garden is an important step for successful pest management. Garden pests can include fruit flies, squash bugs, Japanese beetles, stink bugs, scale insects and other common garden pests. These pests can cause serious damage to plants by feeding on foliage or roots, reproducing quickly and making it difficult to grow and maintain healthy plants. To effectively manage these garden pests, it is necessary to accurately identify the problem species and then take appropriate action.
When identifying garden pests, consider the environment they are in as well as their appearance. For instance, if there are large numbers of small flying insects near ripe fruits or vegetables, they may be fruit flies. If there are large numbers of small yellow beetles on leaves or stems of plants in the garden, they could be Japanese beetles. The presence of small round scales on stems or leaves could indicate the presence of scale insects. Stink bugs may also be visible around vegetable gardens or other areas where food is grown.
In some cases, hydrogen peroxide can be used as a natural insecticide to help control certain types of garden pests. However, this should only be done after accurately identifying the pest species and determining that it will not harm other beneficial organisms in the garden. With accurate identification and proper cultural control practices in place, managing garden pests can become much easier and more effective. Now that we have looked at identifying the problems let's dive deeper into how to get rid of bugs in garden soil.
Cultural Control Practices
Cultural control practices are a key factor in preventing and controlling bug infestations in garden soil. These practices involve using physical, biological, and organic strategies to create an unfavorable environment for pests while encouraging beneficial insects.
One of the most common tactics is to use diatomaceous earth as a natural insecticide. This powdery substance is made up of fossilized remains of tiny aquatic organisms and works by cutting through the exoskeleton of insects which causes them to dehydrate and die. Additionally, it can be used on plants to deter animals from eating them by creating an unpleasant taste or texture.
Other effective techniques include introducing beneficial insects such as ladybugs or lacewings which feed on many common pests. In addition, neem oil or horticultural oil can be sprayed on plant foliage to repel pests, while organic matter such as compost can be added to the soil to improve its fertility and help plant roots absorb more nutrients. Finally, row covers can also be used over garden beds to protect crops from insect damage. When combined with regular maintenance like emptying a compost bin regularly or removing dead leaves, these cultural control practices can keep bugs out of your garden soil for good.
By implementing these strategies, gardeners have an opportunity to maintain healthy soils that are free from pests without having to rely on chemical pesticides or synthetic fertilizers. Take into account if you have overly wet soil or something dryer or sandier because you want to use control practices suitable for the conditions of your garden when looking at how to get rid of bugs in garden soil.
Natural Predators
One way to get rid of bugs in garden soil is to employ natural predators. Spider mites, fungus gnats, and other pests can be controlled with the help of beneficial insects. Parasitic wasps, beneficial nematodes, and trap crops are effective at controlling the population of harmful pests. For example, parasitic wasps feed on spider mites and lay eggs inside them which eventually kill them. Beneficial nematodes also feed on soil-borne insects such as fungus gnats while trap crops can draw away aphids from the main plants. Ladybugs are well-known predators of aphids, mealybugs, mites, and other soft-bodied insects. They can consume a large number of pests in a short time. Lacewing larvae are voracious predators that feed on aphids, thrips, mealybugs, and small caterpillars.
Adult lacewings also consume nectar and pollen, making them valuable pollinators. Praying mantises are skilled predators that eat a variety of pests, including aphids, flies, beetles, and caterpillars. They are highly beneficial but require a stable habitat to thrive.
Attracting beneficial inscects
To attract beneficial insects, create a diverse and insect-friendly garden by including a variety of plants that provide food and shelter throughout the season. Avoid using broad-spectrum insecticides that can harm beneficial insects along with pests.
In addition to using these natural predators, organic pesticides can also be used to get rid of bugs in garden soil. Essential oils and insecticidal soaps are among the most common types of organic pesticides that can be used for this purpose as they are relatively safe to use around plants and animals. They work by disrupting the nerve cells or digestive systems of insects and killing them quickly without causing much environmental damage.
Organic insecticides provide an alternative solution for getting rid of bugs in garden soil without resorting to harsh chemicals or synthetically produced substances. However, it is important to note that these insecticides should only be used when absolutely necessary as they may have some adverse effects on the environment if used indiscriminately or excessively. Organic insecticides offer a safe solution for getting rid of bugs in garden soil but they should be used sparingly so as not to cause any long-term environmental damage. This will help keep your fertile soil safe and keep your tomato plants and other veggies safe to eat.
Organic Insecticides
It is possible to get rid of bugs in garden soil without the use of harmful chemical insecticides. Organic pest control, which is naturally derived from plants, animals, bacteria or minerals, can be used as an alternative method for controlling garden pests. To start with, soapy water is a simple and effective way to spray down plants and rid them of unwanted pests. A mixture of vegetable oil and mild soap can also be used as a natural insecticide. This soap spray can be applied directly to the leaves of plants to kill bugs without damaging the plant itself.
Biological controls are another way to naturally keep pests away from your garden. Good bugs such as ladybugs and lacewings can feed on plant-destroying bugs like caterpillars and aphids. These beneficial insects will help keep your garden healthy while eliminating the need for chemical pesticides. There are also products available that contain natural ingredients such as neem oil or pyrethrin which are effective at controlling garden pests.
Some of our Favorites:
Diatomaceous earth (DE) is a commonly suggested remedy for controlling garden bugs, and it can be effective against certain pests. DE is a fine powder made from the fossilized remains of diatoms, a type of algae. It has sharp microscopic edges that can puncture the exoskeletons of insects, causing them to dehydrate and die. Diatomaceous earth can be applied as a barrier around plants or directly on pests. When insects come into contact with the DE, it damages their protective outer layer and absorbs their waxy coating, leading to dehydration.
This method can be effective against soft-bodied insects, such as slugs, snails, aphids, and some crawling insects. Apply a thin layer of DE around the base of plants, on leaves, or on areas where pests are present. It's important to reapply after rainfall, as DE loses effectiveness when wet. Avoid applying DE in windy conditions, as the powder can become airborne and irritate your respiratory system.
Insecticidal soap: Use a mild insecticidal soap solution to spray affected plants. It suffocates soft-bodied insects like aphids, mites, and whiteflies. Ensure the soap is specifically formulated for plants and follow the instructions for safe use.
Garlic spray: Blend a few cloves of garlic with water and strain the mixture. Dilute the liquid with water and spray it on the plants. Garlic spray acts as a natural repellent for many pests.
Neem oil: Neem oil is an organic insecticide derived from the neem tree. Dilute it according to the instructions and spray it on affected plants. Neem oil disrupts the insects' life cycle and acts as a deterrent.
Using organic
Organic insecticides are a safe and effective way to get rid of unwanted pests in your garden soil while still protecting the environment. We always recommend using natural or organic ways in your garden. With a little research and some basic knowledge about organic pest control methods, you can start using these natural solutions in your own garden today!
Chemical Insecticides
If you don't feel the above is working, chemical insecticides can be used to manage pest populations in garden soil. When applied correctly, they can help reduce pest damage to vegetable gardens and other plants. However, it is important to use the correct type of insecticide for the particular pest problem in order for it to be effective.
The advantages of chemical insecticides include:
Their ability to target specific pests
The speed with which they can control pest populations
The reduced risk of damaging plant tissues
The disadvantages of chemical insecticides include:
Potential environmental contamination
High cost of some products
Risk of pests developing resistance over time
It is also important to note that different types of chemical insecticides have different levels of effectiveness on certain pest species, such as tomato hornworms. Therefore, it is important to do research first in order to determine the most appropriate product for a given scenario. To ensure safety and effectiveness, follow all label directions when using any chemical pesticide. Moving forward, soil solarization can be an effective approach for managing garden soil pests. While you are learning how to get rid of bugs in garden soil and you use chemicals, always use an abundance of caution. We use chemical insecticides as a LAST RESORT!
Soil Solarization
Soil solarization is an effective method for getting rid of bugs in garden soil. This process utilizes the sun's heat to kill bugs and other pests in the soil. It has been estimated that temperatures up to 120°F can be reached in the top layer of soil, making it an ideal way to reduce population levels of soil mites, nematodes, and weed seeds.
The process involves covering the affected areas with clear plastic sheeting for a period of four to six weeks during the hottest part of the growing season. The plastic traps solar radiation, which heats up the top layer of soil and starves out any insects or other organisms present. For this reason, it is important to use clear plastic sheeting as opposed to colored or opaque material. Once this process is completed, healthy soil should remain free from infestations for up to three years.
After completing solarization, be sure to replenish nutrients by adding fertilizer and compost from your local garden center. Additionally, water the area with one gallon of water per square foot every two weeks until plants begin growing again. By doing this you will ensure that your entire plant is healthy and free from infestations for the remainder of the growing season.
Crop Rotation
Crop rotation is one of the most effective ways to get rid of garden bugs and prevent them from returning. This practice involves planting different outdoor plants in the same area each season, rather than growing the same type of plant year after year. By rotating crops, it can help reduce bug problems because insects that live in certain types of soil or feed on certain types of plants will not be able to find their preferred food source. Furthermore, crop rotation can minimize other issues such as root aphids, flea beetles, and fungus gnat infestations.
Organic gardeners may choose to use companion planting with crop rotation for added pest control benefits. Some beneficial companion plants for tomatoes include garlic, onions, marigolds, and nasturtiums. Additionally, adding coffee grounds to garden soil can deter certain pests as well as provide nutrients for plants.
It is important to remember that crop rotation should be done over a period of at least four years in order to be effective against recurring bug infestations. When done correctly, this technique should help keep gardens healthy and free from insect pests while still maintaining high yields of fruits and vegetables. Proper watering techniques are also essential for preventing garden bugs from taking hold in a garden's soil.
Proper Watering Techniques
Watering plants is an essential part of gardening. It is important to ensure the plant's roots are not sitting in dry soil. Moist soil helps to provide the nutrients necessary for healthy growth. The best way to water plants is to use a potting soil mixture and moisten it until it is evenly saturated. This ensures that all the nutrient-rich areas are properly hydrated.
Another great way to make sure your garden soil stays moist is to add a layer of mulch or compost on top of the soil surface. This will help keep moisture in the soil and also prevent weeds from growing in the area. The best thing you can do for your garden soil is to fertilize it regularly with organic matter such as compost or manure. Fertilizing will help create a more fertile, bug-free environment for your plants and give you the best results possible. Check out how rain barrels can be beneficial to your garden.
Compost/Mulch Application
Good news for gardeners: there are several methods to get rid of bugs in garden soil. A common method is to spray the affected areas with a spray bottle filled with water. Another option is to add houseplant soil or compost to the top of the soil surface, which will help create a healthier environment for your plants. It's also important to keep the soil wet, as this helps prevent powdery mildew and other fungal diseases. Finally, you can use yellow sticky traps around your plants to trap any insects that may be present.
Compost and mulch are two great ways to improve the soil quality and reduce insect populations in your garden. Compost is made up of decomposed organic material such as leaves, grass clippings, and kitchen scraps. This provides essential nutrients for your plants while also improving water retention and drainage in the soil. Mulching can be done by covering the top of the soil with an organic material such as straw or bark chips that will help keep weeds at bay while retaining moisture in the soil.
Both compost and mulch have many benefits when used correctly in a garden. They can help retain moisture levels, reduce weeds, increase nutrient availability, improve drainage, and help control insect populations. Additionally, using organic materials like compost and mulch can minimize environmental impacts by reducing water runoff from gardens and promoting healthy plant growth. With these beneficial tools at their disposal, gardeners can maintain healthy gardens while protecting their plants from pests and diseases.
Plant Resistant Varieties
When trying to get rid of bugs in garden soil, planting resistant varieties is a great way to start. Hot peppers, for instance, are known to deter pests and other annoying bugs. They can also work as companion plants for other parts of the plant. Additionally, planting certain vegetables that are resistant to fungus gnat infestation can be beneficial in keeping tiny critters away from your bed garden. Furthermore, certain varieties have been found to be immune to tiny white bugs which can wreak havoc on plants if left unchecked.
Incorporating these resistant varieties into your garden is an effective way of fighting off any bug infestation. It allows you to keep your plants safe without having to use toxic chemicals or other methods of pest control. This can help you maintain a healthy organic garden that is free from harmful insects and other tiny critters. Additionally, you can save money by not having to buy costly pesticides and insecticides every season.
This method provides a natural solution that won't harm the environment or cause any negative effects on your plants or crops. With this approach, you will be able to keep your garden free from pesky bugs and ensure its health in the long run. Transitioning smoothly into the next section about handpicking/trapping pests will further aid in getting rid of the annoying critters for good.
Handpicking/Trapping Pests
It might come as a surprise that one of the oldest and simplest methods of dealing with garden pests is still one of the most effective. Handpicking and trapping pests are often the first steps in managing bad bugs in gardens. With a bit of patience, they can be removed from plants by hand, especially if visible to the naked eye. Squash plants are especially vulnerable to infestations, so it is important to inspect them regularly. Remove any affected plant parts before tiny bugs can cause too much damage.
The same goes for other vegetables that may have fallen prey to unwanted pests. Traps can also be used, such as those made of yellow sticky boards or light traps that attract insects at night. By regularly checking plants and using physical barriers like these. Gardeners may be able to keep garden pests under control without having to resort to chemical pest control methods.
Trap Crops/Barrier Plants
The next effective way to get rid of bugs in garden soil is by using trap crops or barrier plants. Trap crops provide a natural way for gardeners to attract and manage pests while protecting the desired plants. Trap crops can be used indoors or outdoors. Plus they are an easy and eco-friendly choice when it comes to pest control.
Here are three ways that you can use trap crops or barrier plants:
1. Planting the crop near your desired garden plants as a first line of defense against pests.
2. Planting a single trap crop away from your garden plants, which will draw the pests away from the desired plants.
3. Create a barrier around your garden with dead plant material to keep pests away from your desired plants.
Trap crops and barrier plants are an effective and natural way to get rid of bugs in garden soil. Without having to resort to chemical pesticides or herbicides. They provide an additional layer of protection against common garden pests. This allows you to maintain healthy soil and have healthy garden plants without compromising your environmental values. With this approach, you can ensure that your soil remains free from harmful insects. All the while keeping your desired plants safe and healthy. Transition into the following section about row covers or netting now for increased protection against pests in the garden!
Row Covers Or Netting
One of the best ways to help rid a garden of bugs is to use row covers or netting. These serve as a barrier between the pests and your plants. They can be an effective first place to start when trying to get rid of them. Row covers or netting are one of the best methods for achieving a healthy garden bed with beautiful plants in it.
You can buy row covers at any gardening store. They come in lightweight material that you can easily drape over your garden beds. You'll want to make sure that you secure them with something like stakes or sandbags so they don't blow away in strong winds. You may also want to consider getting insect netting for additional protection. This will prevent pests from getting inside and damaging your plants.
Good luck with keeping out those pesky pests! Using row covers or netting is definitely a good idea if you want to have a successful and bug-free garden this season.
Beneficial Nematodes
Beneficial nematodes are an excellent way to get rid of bugs in garden soil. They are microscopic, non-segmented worms that are beneficial because they prey on a variety of insects and other pests. Nematodes can be used as a natural form of insect control. They are one of the most efficient biological control agents available. Here are some ways to use beneficial nematodes to control pests in your garden:
Purchase beneficial nematode species that target specific pest species.
Mix the nematodes with water according to the manufacturer's instructions.
Apply the mixture directly to the soil and water thoroughly after application for best results.
Monitor your garden regularly and apply additional treatments as needed.
Nematodes can provide effective control of many different pests. These include root weevils, caterpillars, grubs, fungus gnats, thrips, and other soil-dwelling insects. However, they can also be detrimental to other beneficial organisms such as earthworms and mites. So caution should be taken when applying them in gardens where earthworms or mites may be present. Proper timing is also important; it is best to apply nematodes at night. This is when temperatures are cooler and there is less light for insect activity. With careful monitoring and application of beneficial nematodes. You will have a successful season with fewer bugs in your garden soil!
By using beneficial nematodes as a natural form of insect control, gardeners can take an active role in managing their gardens without having to resort to chemical pesticides or other harsh methods. This approach provides an environmentally friendly option for controlling pests while still providing effective results. Moving forward, understanding biological control agents and their potential benefits is key to creating a healthy garden ecosystem.
Biological Control Agents
Biological control agents can be an effective way to manage pest populations in the garden. They are living organisms that target and feed on garden pests, resulting in a reduction in garden insect damage. Such agents can include beneficial insects. These can include ladybugs, praying mantises, or lacewings; parasites or pathogens; and predatory animals, such as birds and frogs. Effective use of biological control agents requires careful selection of the most appropriate organism for the particular pest problem.
When selecting a biological control agent, it is important to consider its host range and any potential non-target effects it might have on other species in the area. The pest must also be identified accurately so that the correct agent is selected. Once released into the environment, it may take some time for the population of the agent to build up before any tangible results are observed. Consequently, it is important to plan ahead for long-term management of pests using this method.
Using biological control agents requires knowledge of their biology and impact on other species. This is to ensure their proper use and minimize possible damage to beneficial species or non-target pests. As with all pest management methods. Monitoring of garden conditions should be ongoing in order to assess progress or identify if additional measures need to be taken.
What do can i do?
The best method for getting rid of bugs in garden soil is to take a multi-faceted approach. It is important to properly identify the pest issue. Then use an appropriate combination of cultural, natural, organic, chemical, trapping, and biological control methods.
In many cases, simple cultural practices such as improving soil fertility and drainage or rotating crops can lead to successful pest management. Natural predators like lady beetles and green lacewings can also be beneficial in controlling populations of certain insects. Organic insecticides are available that are effective at targeting specific pests while limiting environmental damage. Chemical insecticides may be necessary in some cases but should only be used as a last resort and with caution.
Using trap crops or barrier plants in conjunction with row covers or netting can also reduce bug populations without the use of chemicals. Beneficial nematodes may be introduced into the soil to target certain types of larvae. While biological control agents such as parasitic wasps can provide long-term population control of certain species of insects. Taking a comprehensive approach to pest management will help ensure success in getting rid of bugs in garden soil. It's not just one size fits all! Now that you know how to get rid of bugs in garden soil… Are you ready to get your garden healthy? Let us know what steps you plan on taking first.