As the holiday season approaches, the tantalizing aroma of cranberry sauce fills the air, evoking memories of Thanksgiving feasts and Christmas dinner with loved ones. My Thanksgiving table is not complete without a bowl of cranberry sauce with the sides. Whether you're a culinary novice or an experienced chef, canned cranberry sauce is a convenient and reliable addition to your holiday menu. Plus it just looks pretty on your Thanksgiving table. In this article, we'll explore a variety of scrumptious canned cranberry sauce recipes perfect for your Thanksgiving meal. Both homemade and semi homemade recipes. Get ready to impress your guests with these easy-to-follow canned cranberry sauce recipes Thanksgiving guests will love and that will elevate your holiday spread to new heights. You should also check out our recipe for cottage pie.
Is it Safe to Put an Unopened Can of Cranberry Sauce in Refrigerator?
Frequently, it is recommended to promptly place an unopened can of cranberry sauce in the refrigerator in order to ensure its safety and maintain its quality. This is especially important when it comes to canned cranberry sauce, which is a staple during Thanksgiving dinner. While cranberry sauce can be stored at room temperature, it is always best to err on the side of caution and refrigerate it.
By refrigerating the unopened can of cranberry sauce, you are preventing any potential bacteria growth that could occur if left at room temperature for an extended period of time. This is especially important if you plan on using the cranberry sauce as leftovers in the days following Thanksgiving. Keeping it refrigerated will help to maintain its freshness and extend its shelf life.
In addition to ensuring safety, refrigerating the canned cranberry sauce also helps to maintain its quality. The cool temperature helps to preserve the flavor and texture of the sauce, so that when you do open the can, it will taste just as delicious as when you first bought it.
Is Canned Jellied Cranberry Sauce Good for You?
Although canned jellied cranberry sauce may be convenient for Thanksgiving dinner, it is important to consider whether that canned stuff is actually good for your health. While it may seem like a harmless addition to your Thanksgiving menu, there are a few factors to consider when it comes to canned cranberry sauce. Making your own canned cranberry sauce recipes for Thanksgiving gives you the freedom to customize as needed.
Here are some points to keep in mind:
– High fructose corn syrup: Most canned cranberry sauces contain high fructose corn syrup, which is known to have negative effects on health when consumed in excess. It is important to be mindful of the amount of this ingredient in your diet. Always check labels on store-bought canned goods.
– Nutrient content: Canned cranberry sauce lacks the same nutritional value as homemade jellied cranberry sauce. The canning process and added preservatives may lead to a loss of important nutrients found in fresh cranberries.
– Alternative options: Consider making your own jellied cranberry sauce using fresh tart cranberries and less sugar. A medium saucepan and natural pectin added to whole berries is the start to an easy recipe. There are many delicious homemade canned cranberry recipes for Thanksgiving available that can be a healthier alternative to canned cranberries from the grocery store.
– Thanksgiving recipes: Explore different canned cranberry sauce recipes this Thanksgiving that use fresh cranberries, such as cranberry jelly, cranberry relish or cranberry chutney. These recipes can add a burst of flavor to your Thanksgiving feast while providing you with the nutritional benefits of fresh cranberries. This perfect side dish can be made to accommodate a number of specified diets. Find the recipe that is best for you. You can add crushed pineapple, zest of an orange, apple cider, lemon juice, fresh berries or some Ocean Spray juice mixed with a half cup orange juice. Find an easy cranberry sauce recipe and don't be afraid to try it out.
Can Cranberry Sauce in a Can Go Bad?
While some may wonder if canned cranberry sauce can go bad, it is important to note that the canning process typically preserves the sauce and prevents spoilage. This is great news for those who love the convenience and versatility of canned cranberry sauce, especially during the holiday season.
Canned cranberry sauce is a popular ingredient in many Thanksgiving recipes, adding a burst of tangy flavor and vibrant color to dishes. Whether you prefer the smooth texture of jellied cranberry sauce or the chunky texture of whole-berry sauce, the canned variety is a convenient option that can be enjoyed year-round.
When it comes to home food preservation, water bath canning is commonly used to safely preserve cranberry sauce. This process involves sealing the sauce in sterilized jars and submerging them in a boiling water bath to create a vacuum seal. This can extend the shelf life of cranberry sauce for up to a year. Certain food items like Cranberries have different instructions. Even my new Instantpot has separate instructions for cranberries.
If you're feeling adventurous, you can also try making your own cranberry relish or fresh cranberry sauce. These recipes typically involve cooking fresh cranberries with sugar and other ingredients to create a flavorful sauce. While these homemade options may not have the same long shelf life as canned cranberry sauce, they are a delicious and customizable alternative.
How To Make Canned Cranberry Sauce Taste Homemade
Some people like a whole berry cranberry sauce and some people like more of a jelled sauce. Transforming a can of cranberry sauce into a delectable homemade-style accompaniment has never been easier. With just a few simple ingredients and a dash of creativity, you can elevate the flavor of your cranberry sauce to impress your guests at holiday gatherings and beyond. By infusing it with the zesty brightness of fresh oranges or fresh orange juice, the warmth of spices, and the possibility of nuts for added texture, you can savor the taste of homemade cranberry sauce without the extensive cooking time. In this guide, we'll walk you through the process of making canned cranberry sauce whether you like whole cranberries or more of a jellied sauce, taste like it was lovingly crafted from scratch, creating a delightful side dish that complements your main courses and brings a burst of homemade flavor to your dinner table. Here's how to do it: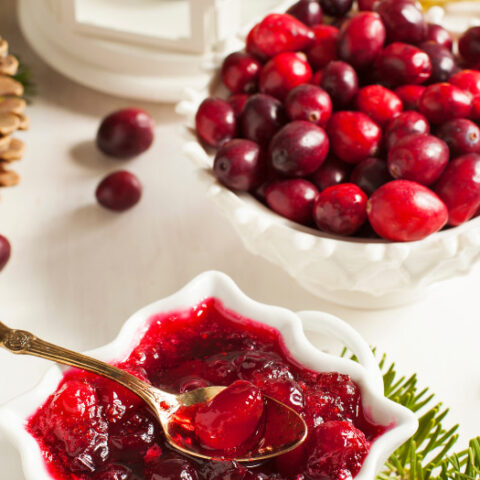 How To Make Canned Cranberry Sauce Taste Homemade
Additional Time:
23 minutes
You'll only need a 1/4 cup serving for each person for this delicious canned cranberry sauce recipe.
Ingredients
1 can of cranberry sauce (whole berry or jellied, depending on your preference)
1 orange
1/2 cup granulated sugar
1/4 teaspoon ground cinnamon (optional)
1/4 teaspoon ground nutmeg (optional)
1/4 cup chopped pecans or walnuts (optional)
Instructions
Start with the canned cranberry sauce:
Open the can and empty the cranberry sauce into a saucepan.
Zest and juice the orange:
Use a fine grater to zest the orange's outer peel (just the orange part, not the white pith).
Cut the orange in half and squeeze out the juice. You'll need about 1/4 cup of fresh orange juice.
Add sugar and orange zest:
Stir in the freshly grated orange zest and granulated sugar into the cranberry sauce in the saucepan.
Add optional spices:
If you like, you can add ground cinnamon and nutmeg for extra flavor. Start with just a pinch of each and adjust to your taste.
Heat and stir:
Over medium-low heat, warm the cranberry sauce while stirring continuously. This will help the sugar dissolve, and the orange zest infuse the sauce with a fresh, citrusy flavor.
Add orange juice:
Pour the fresh orange juice into the saucepan and continue to cook, stirring occasionally.
Taste and adjust:
Taste the sauce and adjust the sweetness, spices, or orange flavor to your liking. If you want it sweeter, add more sugar. If you want more orange flavor, add more zest or juice.
Add nuts (optional):
If you like a bit of crunch and texture, stir in some chopped pecans or walnuts at this stage.
Cool and serve:
Remove the saucepan from the heat and allow the cranberry sauce to cool to room temperature.
Serve:
Serve your enhanced cranberry sauce as a side dish for Thanksgiving or any other meal. It will have a homemade taste with the zesty and aromatic flavors of orange and spices.
This method transforms canned cranberry sauce into a more flavorful and homemade-tasting accompaniment for your holiday table. Adjust the ingredients to your preference, and you'll have a delicious cranberry sauce that complements your main dishes beautifully. It's perfect for turkey day, Christmas or really any holiday.
Homemade Canned Cranberry Sauce Recipes Thanksgiving
One popular option for Thanksgiving is homemade canned cranberry sauce, as it allows you to customize the flavors and ingredients to your liking. Making your own cranberry sauce not only adds a personal touch to your holiday meal, but it also ensures that you are using fresh ingredients and avoiding any preservatives or additives that may be present in store-bought canned versions. It is so pretty too. You can dress up your table with greenery and add a cinnamon stick for a natural scent, but nothing compares to that roast Thanksgiving turkey, mashed potatoes and a crystal dish of my homemade cranberry sauce recipes.
Here are two sub-lists to help you explore the world of homemade canned cranberry sauce recipes:
Benefits of Homemade Canned Cranberry Sauce:
– Customizable flavors: You have the freedom to experiment with different combinations of spices, sweeteners, and even fruits to create a unique cranberry sauce that suits your taste. Sometimes the best recipe is the one you try as an experiment!
– Fresh and natural ingredients: By making your own cranberry sauce, you can use fresh cranberries and other wholesome ingredients, enhancing the overall flavor and nutritional value of the dish.
Top Homemade Canned Cranberry Sauce Recipes:
1. Classic cranberry sauce: A simple recipe that combines cranberries, sugar, water, and a hint of orange zest for a traditional and tangy flavor.
2. Spiced cranberry sauce: Add warmth and depth to your cranberry sauce by incorporating spices like cinnamon, nutmeg, and cloves, creating a perfect complement to your Thanksgiving turkey. Serve it as a hot cranberry sauce, this is one of many delicious ways to enjoy it.
Homemade Cranberry Sauce Recipe
Total Time:
2 hours
20 minutes
There is nothing like homemade cranberry sauce for the holidays.
Ingredients
12 ounces (about 3 cups) fresh or frozen cranberries (about 340 grams)
1/3 cup light brown sugar (packed)
1/3 cup water
2/3 cup orange juice
1 strip of orange zest (about 1-inch wide), optional
Instructions
Rinse the Cranberries: Rinse the fresh cranberries thoroughly and discard any bruised or damaged ones. If using frozen cranberries, you don't need to rinse them.
Combine Ingredients: In a medium saucepan, combine the cranberries, sugar, orange juice, water, and the optional strip of orange zest. If you prefer a more hint of citrus flavor.
Cook Over Medium Heat: Place the saucepan over medium heat and bring the mixture to a boil. Stir occasionally to help dissolve the sugar.
Simmer: Reduce the heat to low, and let the cranberry mixture simmer for about 10-15 minutes. The cranberries will burst and the sauce will thicken. Continue to stir occasionally to prevent sticking or burning.
Remove from Heat: Once the cranberries have burst and the sauce has thickened to your desired consistency, remove the saucepan from the heat.
Cool and Remove Orange Zest: Allow the cranberry sauce to cool for a few minutes. If you used the optional strip of orange zest, remove it at this point.
Adjust Consistency: If the sauce is too thick, you can add a little more water to reach your desired consistency. If it's too thin, you can simmer it for a few more minutes to thicken it.
Serve or Store: You can serve the cranberry sauce warm, at room temperature, or chilled for 2 hrs. It will continue to thicken as it cools. If not using immediately, transfer it to an airtight container and store it in the refrigerator. Homemade cranberry sauce can be stored for up to a week.
What Can I Serve Leftover Cranberry Sauce With?
Cranberry sauce is a versatile condiment that pairs well with various dishes, and its sweet-tart flavor can complement a wide range of savory and sweet dishes. Here are some serving suggestions:
Pork Chops and Pork Roast:

Cranberry sauce is a classic accompaniment for pork dishes. It adds a sweet and tangy contrast to the richness of the meat. Serve it alongside roasted pork chops, pork tenderloin, or a succulent pork roast.

Turkey and Chicken:

Cranberry sauce is a staple for Thanksgiving and Christmas dinners, where it pairs perfectly with roasted turkey and chicken. It adds a burst of flavor and moisture to the poultry.

Ham:

If you're having a ham dinner, cranberry sauce can be a delightful addition. Its sweet-tartness complements the saltiness and smokiness of ham, making it a popular choice for holiday feasts.

Meatballs or Meatloaf:

Cranberry sauce can be served with meatballs or meatloaf. It adds a unique flavor profile to the dish and can be used as a glaze or dipping sauce.

Sandwiches:

Use cranberry sauce as a condiment in sandwiches. It pairs well with leftover turkey or roast chicken in leftover turkey sandwiches or as a spread for a chicken salad sandwich.

Cheese and Charcuterie Platters:

Cranberry sauce can be served alongside cheese and charcuterie boards. Its sweet and tangy flavor complements a variety of cheeses and cured meats.

Ice Cream:

For a sweet treat, you can drizzle cranberry sauce over vanilla or fruit-flavored ice cream. The contrast between the cold, creamy ice cream and the warm cranberry sauce can be delightful.

Pancakes and Waffles:

Cranberry sauce can be used as a fruity topping for pancakes or waffles. It's a unique and delicious alternative to traditional maple syrup.

Desserts:

Incorporate cranberry sauce into desserts like cheesecake, tarts, or crumbles. It can add a sweet-tart element that pairs well with cream or pastry.

Grilled or Baked Brie:

Serve warm, gooey brie cheese topped with cranberry sauce as an appetizer. The combination of creamy cheese and fruity sauce is a crowd-pleaser.
Remember that cranberry sauce can be customized to your taste by adjusting the level of sweetness and adding various spices or citrus flavors. It's a versatile condiment that can add a burst of flavor to a wide range of dishes, from savory to sweet.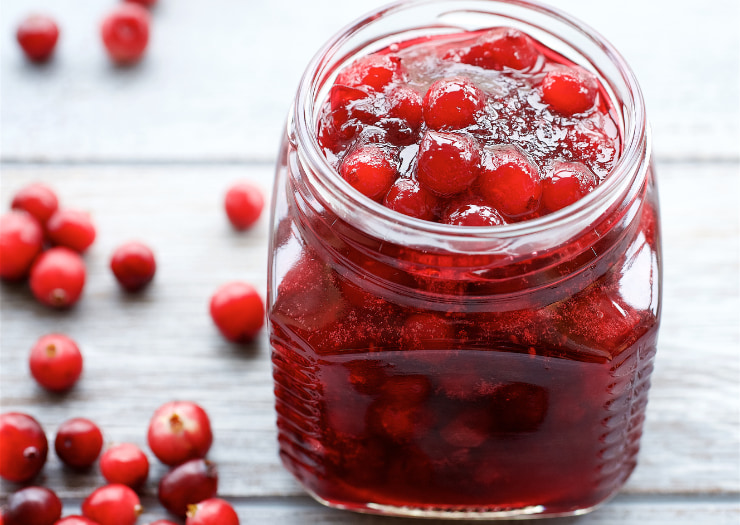 How Do I Can Cranberry Sauce?
Canning homemade cranberry sauce is a great way to preserve it for long-term storage, allowing you to enjoy it beyond the holiday season. Here's a step-by-step guide on how to can homemade cranberry sauce safely:
4-ounce (1/2 cup) jelly jars: This recipe should fill approximately 4 to 5 of these small jelly jars.
8-ounce (1 cup) jelly jars: You can fill around 2 to 2.5 of these standard-sized jelly jars.
12-ounce (1.5 cups) jelly jars: You can fill approximately 1 to 1.5 of these larger jelly jars.
Pint jars will work for most recipes, you can also use them for cranberry jam, jellied or whole cranberry sauce.
How to Can Cranberry Sauce
Feel free to double or triple the original recipe to make more to can.
Materials
Homemade cranberry sauce (prepared as per the previous recipe)
Tools
Canning jars with lids and bands.
Water bath canner or large stockpot with a canning rack
Canning tools (jar lifter, lid lifter, bubble remover)
Funnel
Ladle
Measuring cups and spoons
Towels, clean cloths, or paper towels
Boiling water
Timer
Instructions
Prepare Your Canning Equipment:
Wash your canning jars, lids, and bands with hot, soapy water. Rinse them thoroughly and keep them warm until ready to use. Check the bands for any rust or damage and replace if necessary.
Sterilize Jars:
Place the canning jars in a water bath canner or a large stockpot filled with water. Make sure the jars are fully submerged. Bring the water to a simmer (180°F/82°C) and sterilize the jars for 10 minutes. Keep them hot until you're ready to fill them.
Fill Jars:
Using a funnel and a ladle, fill the hot, sterilized jars with the hot cranberry sauce, leaving about 1/4-inch of headspace at the top. Remove any air bubbles by running a non-metallic bubble remover or spatula along the inside of the jar.
Wipe Jar Rims:
Dampen a clean cloth or paper towel with boiling water and wipe the rims of the jars to ensure there is no food residue, which can prevent proper sealing.
Apply Lids and Bands:
Place the sterilized canning lids on the jars and screw on the bands until they are fingertip tight (not too tight).
Process Jars:
Place the filled jars in a water bath canner or large stockpot with a canning rack. The water should cover the jars by at least 1-2 inches. Bring the water to a boil, then process (boil) the jars for 15 minutes.
Remove and Cool:
Using a jar lifter, carefully remove the jars from the canner and place them on a clean towel or cooling rack. Allow the jars to cool undisturbed for 12-24 hours.
Check Seals:
After cooling, check the seals by pressing down on the center of each lid. If it doesn't flex or make a popping sound, the jar is sealed. If a jar is not sealed, store it in the refrigerator and use it within a few weeks.
Label and Store:
Label your sealed jars with the date and store them in a cool, dark, and dry place. Homemade canned cranberry sauce can be stored for up to 1 year.
Now you have your homemade cranberry sauce safely canned and ready to enjoy whenever you like. Always follow proper canning procedures to ensure the safety of your preserved food.
Frequently Asked Questions
How Long Can an Unopened Can of Cranberry Sauce Be Stored in the Refrigerator?
An unopened can of cranberry sauce can be stored in the refrigerator for up to 1 year. It is important to check the expiration date on the can and ensure that the can is not damaged before consuming. Once opened, it needs to be stored in an airtight container in the refrigerator for up to ten days, but it never lasts that long at our house.
Can Canned Jellied Cranberry Sauce Be Used in Recipes Other Than Thanksgiving Dishes?
Canned jellied cranberry sauce can indeed be used in various recipes beyond Thanksgiving dishes. Its sweet and tangy flavor can enhance both sweet and savory dishes, adding a burst of flavor and vibrant color. One of my favorites is mixing it with chili sauce, a pinch of brown sugar and adding it to a slow cooker with a pork loin! This one is very good with whole berry sauce.
What Are Some Creative Ways to Use Leftover Canned Cranberry Sauce?
Leftover canned cranberry sauce can be creatively used in a variety of dishes. It adds a burst of tangy flavor to sandwiches, pancakes, yogurt parfaits, or even mixed into vinaigrettes for salads. Let your culinary imagination soar! So do not be afraid to grab a butter knife and spread it on anything you would add honey, syrup or jelly too. This popular side dish is a favorite way to dress up anything during the holidays.
Can Homemade Canned Cranberry Sauce Be Stored for Long Periods of Time?
Yes, homemade canned cranberry sauce can be stored for long periods of time if proper canning techniques are followed. It is important to use sterilized jars, seal them tightly, and store them in a cool, dark place to ensure freshness and safety.
Are There Any Health Benefits to Consuming Canned Cranberry Sauce?
Consuming canned cranberry sauce can provide several health benefits. Its high antioxidant content helps boost the immune system, prevent urinary tract infections, and reduce the risk of chronic diseases. When making canned cranberry sauce recipes for Thanksgiving you can add whatever fruits, and juices you'd like while cutting back on the things you may want to consume less of like sugar or high fructose corn syrup.
Whenever you make something at home you can control the ingredients. You can buy fresh, whole, organic cranberries, you can cut back on sugar or only change to organic sugars. Canned cranberry sauce recipes Thanksgiving guests can feel good about start with a wooden spoon and your imagination!
Canned cranberry sauce is safe to store in the refrigerator, and it does not go bad if unopened. While canned jellied cranberry sauce may not offer the same nutritional benefits as homemade versions, it can still be enjoyed in moderation. For those looking to add a personal touch to their Thanksgiving feast, homemade canned cranberry sauce recipes provide a practical and accessible option. With these recipes, you can create a delicious and festive accompaniment to your holiday meal. This holiday season is the perfect time to try your hand at our canned cranberry sauce recipes for Thanksgiving and Christmas!