Do you want to start eating healthier, but don't have the time or energy to prepare complicated meals? Mason jar salad recipes are a great way to make delicious and nutritious lunches quickly! With their portability and fresh ingredients, these recipes can help fuel your body with healthy nutrition in minutes. Here's why mason jar salads should be part of your weekly meal prep routine.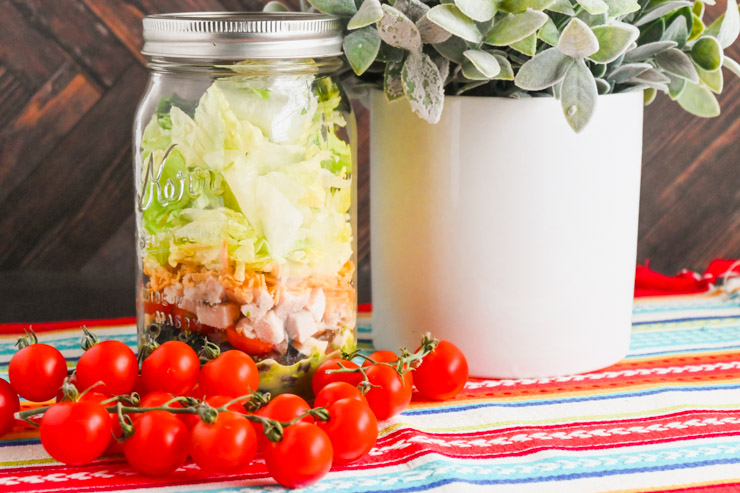 Mason jars provide an easy and convenient way to store salad dressings and keep lettuce crisp and fresh for days. You can layer your salad dressing on the bottom or even pack it on the side if you want. Either way helps you keep the bottom of the jar free from soggy salad! I really like these stainless steel salad dressing containers.
Prepping mason jar salad recipes allows you to mix up different combinations each week without wasting food or spending extra time prepping lunch every day. Plus, it takes no effort at all – just grab a jar from the refrigerator on your way out the door! Meal prep for the week does not have to be rice and casserole all the time.
These colorful creations also bring life into packed lunches by layering vibrant vegetables, protein-filled grains, crunchy nuts, and flavorful sauces into one dish. From Mexican street corn bowls to Asian noodle concoctions, there is something for everyone's taste buds! So get ready to revolutionize your weekday lunches with these tasty mason jar salad recipes that will fuel both body and soul.
What Is A Mason Jar Salad?
Mason jar salads are an increasingly popular way to prepare healthy, delicious meals quickly and easily. In the US alone, over 8 million jars were sold in 2020 – that's a lot of people enjoying their salad-in-a-jar! Mason jar salads are exactly as they sound – salads prepared using mason or other glass jars. But why choose a mason jar for your salad? Well, many find it a convenient and easy way to assemble salads without having to worry about soggy lettuce or unappetizing ingredients. With a few simple steps and some creativity, you can create unique salad recipes in no time at all. From leafy greens with homemade dressings to fun snacks like trail mix and yogurt parfaits, there's something for everyone when it comes to mason jar recipes. By prepping everything separately and layering them inside the jar, you'll avoid any potential problems with soggy salads – plus you get to admire your beautiful creations! So if you're looking for an easy way to make tasty salads on the go, then mason jars might be just what you need.
Benefits Of Preparing Salads In Mason Jars
Mason jar salads are a great option for those who want to quickly and easily prepare nutritious meals. There are several benefits that come with preparing salads in mason jars, including convenience, portion control, and versatility.
1. Convenience: Mason jar salads allow you to mix your salad ingredients ahead of time so they're ready when you need them. You can assemble the jars at home or even buy pre-made ones from grocery stores and delis. This makes it easy to grab a salad on the go without having to worry about finding something healthy while out.
2. Portion Control: Preparing salads in mason jars also helps with portion control as each ingredient is placed into its own place, layered within the jar. This allows you to tailor your meal exactly how you like it and ensures that all of the components remain separate until you're ready to eat them.
3. Versatility: Mason jars give you plenty of room for creativity when making salads too! For example, if you're looking for a Mediterranean style salad, try adding some olive oil, lime juice, hard boiled eggs, bell peppers and feta cheese in one jar; then top off with mixed greens for another jar for a delicious lunch combo! Or why not make an Asian inspired noodle salad by layering cooked noodles and vegetables at the bottom of wide mouth mason jars? The possibilities really are endless!
Additionally, because these salads are layered in proper order—dressing first followed by denser ingredients such as beans or roasted veggies—they stay fresh longer than regular tossed salads do. So there's no need to worry about soggy lettuce ruining your midday snack! With all these advantages combined together, it's clear that making salads in mason jars is both practical and convenient way to get more fruits and vegetables into your diet every day.
Types Of Salads Suitable For Mason Jars
We've all heard the age-old adage, "The best things come in small packages" – and salads stored in mason jars are no exception. With a little creativity and some basic ingredients, you can make delicious, nutritious side salads that everyone will enjoy! Whether you're looking for an easy weeknight dinner option or want to impress your friends with something unique at a summer BBQ, there's sure to be a salad recipe here that fits the bill.
From chicken cobb salads featuring shredded chicken breast and black beans, to lighter options like cherry tomatoes and red onion tossed with fresh greens and vinaigrette dressing, these recipes offer something for every palate. No longer do you have to worry about boring lettuce leaves going limp; now you can create exciting meals full of flavor and texture that won't take long to prepare. Plus, when they're sealed up inside their own individual mason jar containers, it makes them even easier to transport from place to place!
No matter what kind of salad you choose to make in your mason jar creations, the key is having fun with it. Try different combinations of vegetables, fruits, nuts and cheeses until you find one that really hits the spot. And don't forget: if you need help getting started on creating your own masterpiece, simply search online for inspiration – there are tons of amazing recipes out there just waiting for you to discover them!
Whether served as a main course or as part of a larger meal spread at home or away, Mason Jar Salad recipes provide both convenience and flavor in equal measure. Now let's move on to discuss necessary utensils and ingredients needed for making tasty salads fit for mason jars.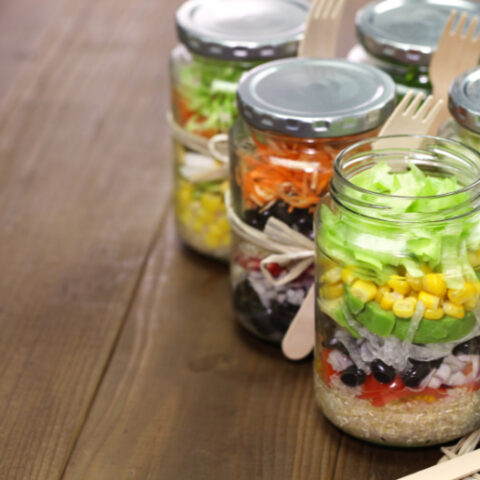 Mason Jar Quinoa Salad
Mason Jar Quinoa Salad is delicious and under 300 calories.
Ingredients
Ingredients
for the salad dressing:
1/2 cup (125 g) Greek yogurt
2 tablespoons rice vinegar
1/2 cup (8 g) cilantro
1 lime (65 g), juiced
Salt and pepper to taste
2 tablespoons olive oil
1 garlic clove, minced
1/2 teaspoon cumin
for the salad
2 cups (370 g) cooked quinoa (certified gluten-free if necessary)
1 cup (195 g) black beans (certified gluten-free if necessary)
1 cup (170 g) corn (certified gluten-free if necessary)
4 cups (120 g) spinach
1 cup (30 g) sliced tomatoes
2 medium (200 g each) avocados, diced
Instructions
To make the dressing, place all ingredients for the salad dressing into a small food processor and process until smooth.
Add 3 tablespoons of salad dressing to the mason jar base. Then add the following ingredients in this order: 1 cup spinach, 1/4 cup tomatoes, 1/2 cup cooked quinoa, 1/4 cup black beans, 1/4 cup corn and 1/2 avocado (diced).
Nutrition Information
Yield

4
Serving Size

1
Amount Per Serving
Calories

209
Total Fat

8g
Saturated Fat

1g
Trans Fat

0g
Unsaturated Fat

7g
Cholesterol

1mg
Sodium

328mg
Carbohydrates

29g
Fiber

5g
Sugar

9g
Protein

7g
Nutrition information is calculated using an ingredient database and should be considered an estimate. In cases where multiple ingredient alternatives are given, the first listed is calculated for nutrition. Garnishes and optional ingredients are not included.
Necessary Utensils And Ingredients
In order to assemble the perfect Mason jar salad recipes, there are a few essential utensils and ingredients that you'll need. To start, make sure you have a wide-mouthed Mason jar with a tight lid at the bottom of your arsenal. You'll also need fresh veggies like tomatoes, cucumbers, carrots or bell peppers; proteins such as boiled eggs, grilled chicken or salmon; nuts for crunchiness like almonds or walnuts; optional cheeses such as feta or blue cheese; sweet items such as raisins or dried cranberries; and dressings like Greek yogurt mixed with peanut butter, artichoke hearts and garlic, or lemon vinaigrette. The key is to mix together flavors that will complement each other in every bite.
Once you've gathered all the necessary components it's time to begin prepping the jar and layering up your delicious mason jar salad recipe.
Preparing The Jar And Layers
Creating a delicious mason jar salad recipes is like assembling a work of art – the right combination of ingredients and layers create something truly beautiful. When it comes to prepping your mason jar meal, you'll need to consider what type of good salad you'd like to make: from classic Caesar salads to vibrant fruit-filled bowls! Once you've decided on your favorite recipe for success, start by grabbing one or more clean jars with lids. Then it's time to start layering in all those lovely fresh salads components.
When building your jar layer by layer, think about which items should go at the bottom versus near the top. In general, dressings and sauces are best placed at the bottom so they don't soak into other ingredients; things like beans and grains that take longer to cook should also be closer towards the base. As far as vegetables go, leafy greens like spinach and kale hold up better when nearer the lid so they stay extra crisp. Finally, adding little bits of crunch throughout can really elevate any dish – just sprinkle some nuts or seeds over each layer before sealing shut!
Caprese Salad in a Jar
Delicous mason jar salad under 400 calories.
Ingredients
8 cups spinach and arugula blend
1 small red onion, diced
2 cups cherry tomatoes, halved
1 cup fresh mozzarella pearls
¼ cup crumbled bacon, about 4 slices
For the dressing:
⅔ cup white balsamic vinegar
½ cup olive oil
½ teaspoon garlic powder
Salt and pepper, to taste
Instructions
In a small bowl, add white balsamic vinegar, garlic powder, olive oil,salt and pepper. Whisk to combine ingredients.

Pour dressing into the bottom of four 12 ounce mason jars.

Add the chopped tomatoes, mozzarella, red onion, and bacon in order to each jar. Top with your lettuce and seal the lid.

Store jars in refrigerator until ready to serve. When ready, shake and eat.
Notes
1 serving is 307 calories. You can store for up to 5 days
Choosing Fresh Produce
After preparing the jar and layers, it's time to choose fresh produce for your mason jar salad recipes. Start with a base of crunchy veggies such as carrots, cucumbers, celery, or radishes. Then add in some of your favorite ingredients like grape tomatoes and bell peppers. For extra flavor and texture, consider adding wet ingredients like olives, feta cheese crumbles, sliced hard-boiled eggs, or a dollop of sour cream. To finish things off, top off your creation with some fresh lettuce leaves or raw spinach leaves.
For those looking for more than just greens in their salads, you can make pasta salad by combining cooked rotini noodles with diced onions and celery mixed with mayonnaise or ranch dressing. Or if you have a sweet tooth try adding cubes of fresh fruit such as apples or oranges along with dried cranberries or raisins.
No matter what combination you choose for your mason jar salad recipe, make sure that all the ingredients are properly washed before being added to the jar. This will help ensure that they stay crisp and flavorful while keeping everything inside healthy and safe to eat! As you move on to pre-cooked protein options next section, keep in mind that there is no limit when it comes to creating delicious salads!
Pre-Cooked Protein Options
Did you know that around 40% of Americans eat salad at least once a week? With mason jar salads, it's easy to make your own healthy meals in minutes. These heartier ingredients can include pre-cooked proteins such as chicken salad, tuna salad and zucchini noodles.
Here are three ideas for adding protein to your own mason jar salads:
* Add cooked quinoa or black beans for a vegan option
* Top with grilled shrimp or salmon
* Include shredded rotisserie chicken or store-bought deli meats (think of your favorite sandwich and turn it into a salad! how about salami, black olives, pickled peppers and Italian dressing. anything like that)
Homemade dressings can be added for more flavor and fresh tomatoes for crunchy texture. Not only will the added protein provide energy throughout the day but also create delicious combinations with other ingredients like spinach, kale and carrots.
In addition to these options, dairy products and dressings can help add extra creaminess, sweetness or tanginess to any mason jar salad recipe.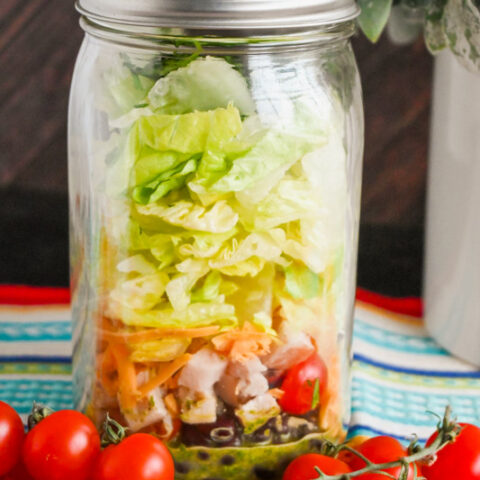 Southwest Chicken Salad
This Southwest Chicken salad is so good and only 319 calories.
Ingredients
½ cup fresh lime juice
2 Tbsp. + ½ cup coarsely chopped fresh cilantro divided use
1 clove garlic coarsely chopped
1 medium jalapeño pepper seeds and veins removed, coarsely chopped
1 Tbsp. extra-virgin olive oil
8 oz. shredded cooked chicken breast
2 cups black beans
1 cup thinly sliced red onion
1 cup halved cherry tomatoes
¼ cup shredded cheddar cheese
8 cups chopped romaine lettuce
Instructions
Place lime juice, garlic, 2 Tbsp. cilantro,, and jalapeno in a blender; cover. Blend until smooth.
Slowly add oil, blending continuously, until well mixed. Evenly divide dressing between 4 one-quart Mason jars. Set aside.
Evenly layer beans, chicken, onion, tomatoes, cheese, lettuce, and remaining ½ cup cilantro on top of dressing in jars.
Serve immediately or cover and refrigerate for up to 3 days. Shake before serving.
Notes
If you want to add avocado, 1 whole avocado divided between the 4 jars will add about 60 calories per jar.
To add 1 cup of corn , divided by 4 jars would = 44 calories per jar.
Dairy Products And Dressings
Adding dairy products and dressings to your Mason Jar Salad recipes is a great way to make them even more delicious. They also help you hit all the daily values for healthy fats and protein that your body needs. To keep things simple, store-bought bottled dressings are an easy option if you're short on time. If you'd like something homemade, try making a creamy yogurt or tahini dressing using olive oil, lemon juice, garlic, herbs and spices of your choice.
When adding dairy ingredients such as cheese or eggs to your salad jars, be sure to place them upright in the middle of the jar so they don't get crushed by other ingredients. This will ensure everything stays fresh until you're ready to eat it! For example, top off a sweet potato and garbanzo bean salad with some crumbled feta cheese or hard boiled egg slices placed firmly at the center of the jar.
Finally, salads made with Mason Jars can easily become part of your weekly meal prep routine! Not only do these meals look beautiful when served from their plastic jars but they taste amazing too – perfect for busy days when you need quick and easy meals.
Healthy Toppings
It's time to give your mason jar salad the flavor it deserves! Healthy toppings are a great way to make sure you're getting delicious and nutritious lunches. Here's some good choices for topping off any mason jar salad:
– **Nuts**: Pecans, almonds, walnuts, or whatever nutty snack you want can add an extra crunchy texture while providing essential healthy fats.
– **Cheese**: A sprinkle of feta cheese or parmesan can help provide additional protein and saltiness that goes perfectly with salads.
– **Fruits**: Berries, apples, oranges, pears—whatever fruit you have on hand can be added for sweetness and extra vitamins and minerals.
– **Veggies**: Carrots, cucumbers, bell peppers—any vegetable adds more fiber and nutrition to your meal.
– **Dressing & Sauce**: Finally top off with your favorite dressing or sauce for extra flavor that packs a punch in every bite.
These simple additions will turn your basic mason jar lunch into a full meal packed with flavor – no fast food required! If you need inspiration, just look up one of the many recipe cards online that'll show how to create a fresh and healthy mason jar salad recipes without breaking the bank (or sacrificing taste!). With all these options available at your fingertips, there's something here for everyone looking to mix and match recipes until they find their perfect combination.
Mixing And Matching Recipes
Did you know that there are over 1,000 recipes out there for mason jar salads? This makes it so easy to mix and match different ingredients to create the perfect meal. With just a few simple ingredients, you can make everything from an Italian-inspired Caprese salad, to a chicken cobb mason jar salad. Mason jar salad recipes are also a great option if you don't have time to go grocery shopping or want something light yet satisfying.
The best part about making these salads is that they only take a few minutes of prep time. You can use whatever fresh fruits and vegetables you have on hand and add them into the jars in layers. For more delicate ingredients like spinach, kale or mushrooms, blanching them first will help maintain their texture when stored in the fridge overnight. Additionally, adding proteins such as grilled chicken or tofu will give your mason jar salad some staying power throughout the day.
Mason jar salads provide a perfect way to get creative with meals without having to spend too much time in the kitchen. Now that we've discussed mixing and matching recipes for this delicious dish, let's move onto meal planning tips which can help save even more time!
Meal Planning Tips
Meal planning is a great way to save time and energy when it comes to preparing delicious, healthy meals. And mason jar salads are the perfect option for quick light lunches or dinners! Here's how to make sure your mason jar salad recipes come out just right every time:
* Start with fresh ingredients-the best thing you can do is choose high-quality produce that tastes good and looks appetizing.
* Prep ahead of time-you don't want to be doing too much work in the kitchen day-of, so always plan ahead and have all your ingredients ready before you start assembling.
* Layer wisely– It's easy to go overboard with toppings but remember, the real star here is your greens! So try not to add too many extras; focus on making them flavorful rather than heavy. Leave room to shake them up, don't fill it to the top!
* Store properly– Mason jars hold up well in the refrigerator for a couple of days, so feel free to prep multiple salads at once if you're short on time.
No matter what your meal plans look like, having some prepped mason jar salads on hand is a great way to stay prepared and ensure that you're eating healthy throughout the week. Plus, they're super convenient for grabbing on-the-go which makes them even more appealing! Ready for portion control strategies? Let's dive into those next!
Portion Control Strategies
Creating a well-balanced meal plan for the entire week can be overwhelming, but it is an essential step in taking control of your health. Learning portion control strategies is one of the first things you should do when embarking on this journey. Through careful planning and attention to detail, we can all achieve great things.
A mason jar salad offers many benefits beyond just avoiding soggy lettuce. Mason jars are an excellent tool for controlling portions while preparing delicious recipes that make healthy eating easier than ever before. Whether you're looking for lunch or dinner ideas, there are endless possibilities with mason jar salads. From chicken Caesar salads to Greek inspired dishes, these containers provide numerous options that can be customized to suit any taste.
Mason jar salads offer convenience as they can easily be stored and transported without fear of spills or messes. This makes them ideal for those who have busy schedules or limited time to prepare meals each day. With proper portion control strategies, you can ensure that each meal contains the right amount of protein, carbohydrates, fruits and vegetables needed to supply your body with essential nutrients throughout the day.
By now you know how helpful mason jar salads can be in creating balanced meals and practicing portion control strategies. Now let's take a look at some tips on storing, reheating and serving ideas – so you can get started today!
Storing and Serving Ideas
Storing mason jar salads is a breeze. All you need to do is prepare the salad ingredients, layer them in the jars and store them in the refrigerator for up to five days. To prevent sogginess and preserve freshness, it's best to keep any dressing or sauce separate until ready to eat.
Serving your mason jar salads couldn't be easier! You can eat them straight from the jar after shaking it up or simply dump out each component into a bowl, plate or dish and mix everything together before eating. Adding some extra seasoning can transform an ordinary salad into something truly delicious! Plus, if you're looking for more presentation ideas – why not try topping with roasted nuts and/or croutons? With these simple touches, your salads will look restaurant-worthy.
No matter how you choose to serve your meals, one thing is certain: Mason jar salads are an easy and healthy way to enjoy nutritious foods at home without spending hours in the kitchen preparing meals from scratch! From storage and creative serving suggestions – getting creative with mason jars has never been so fun or tasty! Let's move onto substitution suggestions next…
Substitution Suggestions
If you find yourself in a pinch and need to switch things up, there are plenty of options. To substitute the lettuce or greens, try kale, spinach, microgreens, romaine hearts, butter lettuce mix – all work great! Other veggie substitutions include shredded carrots, alfalfa sprouts, celery, red cabbage, sweet peppers and more. For protein sources instead of quinoa or chicken you can use chickpeas as a vegan option; for dairy-free dressing swaps try oil-and-vinegar mixtures with fresh herbs.
Fruits make an excellent addition to your jar salad too. Avocado adds creaminess and healthy fats while dried cranberries add sweetness and texture. Slivered almonds provide crunch and nutrition benefits from their high fiber content. And don't forget about using other grains such as farro or barley as precooked grain salads get just as delicious when stored in a mason jar!
Fresh herbs like parsley, chives, or cilantro can be part of the dressing or even just mixed with the greens!
Mixing it up can be fun and even simpler than making the same old salad every day – now that's something worth trying out! Time to explore some creative variations…
Creative Variations
Imagine a world of endless possibilities, where you can create your own unique salad recipes in mason jars. From savory to sweet and everything in between, it's easy to make delicious meals with these versatile containers. Whether you're looking for something light and healthy or indulgent and decadent, there are plenty of creative variations to choose from.
Start by selecting the right size jar for your recipe; one-quart is a great choice as it allows you to layer ingredients without overcrowding them. Then pick out a few colorful vegetables – think cucumbers, jalapenos, bell peppers, cherry tomatoes – that will bring flavor and texture to your salads. Add some protein like grilled chicken or shrimp for an extra boost of nutrition. And don't forget about those tasty dressings! Creamy avocado ranch dressing pairs perfectly with crunchy veggies like carrots and cabbage while balsamic vinaigrette gives a tart kick when mixed with greens such as spinach and kale. Finally, top off your dish with croutons or nuts for added crunch.
Mason jar salads are so much fun to put together because they allow you to switch up flavors depending on what you're feeling at the moment. You can also experiment with different types of grains like quinoa or farro for an interesting twist on traditional pasta dishes. The combinations are truly limitless! No matter what combination you come up with, mason jar salads are sure to be packed full of freshness and flavor every time.
Frequently Asked Questions
How Long Do Mason Jar Salads Typically Last?
If you are looking for a convenient way to eat healthy and save time, mason jar salads have become increasingly popular. But with any food item that needs refrigeration, one question inevitably comes up: how long do they last?
When properly sealed in the refrigerator, mason jar salads can stay fresh for several days. It is important to use airtight lids or sealable plastic wrap to keep out moisture and contaminants. Additionally, it helps if your ingredients are dry before adding them into the jars. Wet ingredients may cause spoilage more quickly. The key factors that will determine shelf life include what type of vegetables you used as well as how much dressing was added.
Your best bet is to plan ahead and make enough mason jar salads for only a few days at a time so you don't risk overstocking your fridge with expired items. It's also important to inspect each salad before eating – if anything looks spoiled or off-color, discard immediately! With these tips in mind, you'll be able to enjoy delicious and nutritious meals without worrying about waste or expiration dates. Each of the mason jar salad recipes may have different ingredients that may spoil faster than others. Keep that in mind when planning.
Are Mason Jar Salads Suitable For Vegan Diets?
Mason jar salads are a unique and creative way to enjoy nutritious meals. They offer a variety of flavors that can be tailored for any diet. As vegan diets become increasingly popular, many of us are wondering if mason jar salads are suitable for this type of lifestyle?
When it comes to eating a vegan diet, one must consider the ingredients carefully. The key is to choose plant-based proteins such as legumes or nuts, along with fruits and vegetables. These components should also be fresh in order to ensure maximum nutrition and flavor. Mason jar salads make it easy to combine these elements into tasty dishes that adhere to the dietary restrictions associated with veganism.
By packing all the necessary ingredients into an airtight container like a mason jar, you'll have everything needed for a delicious meal conveniently at your fingertips! This eliminates quick trips out for unhealthy snacks or takeout food that might not meet your dietary requirements. Moreover, because they're prepared before time, mason jar salads save valuable time when you're on the go or don't feel like cooking from scratch.
In short, mason jars provide an excellent solution for those looking to follow a healthy vegan diet without sacrificing taste or convenience. With their versatility and portability, we can now easily incorporate nutrient-rich foods into our lives no matter how hectic things get!
Are Mason Jar Salads Suitable For Children?
Do you have a picky eater in the family? Are you looking for an easy and healthy meal that is suitable for children? Mason jar salads could be just what your family needs.
Mason jar salads are essentially pre-made meals that are stored inside of mason jars. The ingredients are layered in order to keep them fresh, which is perfect if you're planning ahead or want to take lunches on the go. Plus, they can easily be customized with different proteins, grains, fruits and veggies so everyone in the family can enjoy something tailored to their tastes.
When it comes to kids, there's no need to worry about mason jar salads being too complicated or unhealthy – these recipes typically include wholesome ingredients such as lean meats, whole grains, colorful vegetables and natural dressings. With all of those nutritious components combined together in one convenient container, it's sure to satisfy even the pickiest eaters!
So don't fret when it comes time for lunch – try sprucing up mealtimes with delicious and nutritionally balanced mason jar salads! They'll not only provide your little ones with energy throughout the day but also give you peace of mind knowing that they've eaten something healthy and tasty. So think of the things you would use to build a salad for that picky eater and layer it accordingly.
Is It Safe To Transport Mason Jar Salads?
Transporting food can be a tricky business. Whether it's for lunch at work, or to bring on a picnic – getting meals from one place to another poses its own set of challenges. For this reason, many people are wondering: Is it safe to transport mason jar salads? Here is what you should know about transporting your favorite salad recipes in jars.
Firstly, the type of dressing used will make all the difference when it comes to safely moving your salad around. The best option is to use an oil-based dressing that contains ingredients like olive oil, balsamic vinegar and mustard as these don't separate easily during transit and won't cause any messes once they arrive at their destination. Additionally, there are some dressings that come pre-packed in single-serve containers which makes them ideal for packing up salads without worrying about spills or leaks.
Secondly, Properly sealing the jar with a lid is essential for keeping everything inside fresh and secure while traveling. If possible, try using wide mouth lids so that air can circulate better throughout the jar which helps keep moisture levels consistent. Additionally, adding some ice packs between layers of vegetables when necessary can help ensure your salad stays cool until you're ready to enjoy it. Finally, if you're taking along multiple salads then plan ahead by bringing extra storage bags or boxes so that each individual jar has enough space between them and doesn't get crushed during transportation.
With just a few simple steps and precautions taken beforehand, transporting mason jar salads can become worry free! So pack away those delicious dishes without fear – no matter how far they have to go!
What Is The Best Way To Clean A Mason Jar After Using It To Prepare A Salad?
The mason jar is a symbol of resilience and adaptability, much like the journey to maintaining cleanliness. It can be used for multiple purposes – from making pickles or syrup, to storing spices or crafting a beautiful centerpiece. But what about when it's time for the jar to take on an entirely different form? When we use our trusty mason jars to create salads, we must ask ourselves: what is the best way to clean them afterwards?
It may seem as though tossing out the mason jar would be easier than cleaning it thoroughly; however, this isn't necessarily true. While warm water and dish soap are always recommended for washing any vessel that has been used in food preparation, it's especially important with glass jars because they're more likely to retain odors and bacteria if not cleaned properly. That being said, there are other steps you can take beyond these basics. For example, vinegar is great at getting rid of lingering scents. You could also fill the jar up with hot water and coarse salt before giving it one final rinse with cold tap water or popping in the dishwasher.
These simple instructions might appear quite straightforward but following them carefully will help ensure your mason jars remain safe for future use – whether that means prepping another salad or preserving something special! Taking care of our tools by treating them with respect allows us to craft delicious recipes while preserving their purposefulness for years down the line.
It's clear that mason jar salad recipes are a fantastic way to enjoy fresh, healthy food. Whether you're vegan, feeding your family, or just wanting to take lunch on the go, these delicious recipes will have you coming back for more. With their long shelf life and easy transportability, mason jar salads make a great addition to any meal plan. Plus, they're easy to clean so there's no need to worry about those jars cluttering up your kitchen!
So if you haven't been tempted by the idea of mason jar salads yet – what are you waiting for? It's time to get creative in the kitchen and whip up some delectable meals with these convenient containers. From sweet summer fruit salad creations to hearty winter root-vegetable dishes; there is something for everyone when it comes to mason jar salads. So grab your ingredients, pick out your favorite recipe and let's get cooking!
Mason jar salad recipes are a tasty and convenient way to add variety into your diet without sacrificing flavor. They can be enjoyed at home or taken on the go – making them perfect for busy lifestyles. So why not give them a try today? You'll be glad you did.
Follow us On Social Media
The Oklahoma Homesteader Facebook Page
U.S. Homesteading for Beginners Facebook Group
TheOklahomaHomesteader on Instagram