Are you looking for a delicious, comforting dinner recipe with an Irish flair? Look no further than this Irish Cottage Pie recipe! Made with ground beef, mixed vegetables, and topped with mashed potatoes. It's sure to become a family favorite.
This is a great one to meal prep and have stored in the freezer for a busy weeknight. Make two, freeze one in an aluminum baking dish that you cover with plastic wrap and foil. Label it well and you are good to thaw it during the day in the refrigerator. Then you can pop it in the oven when you get home.
Meat pies are perfect for a special occasion, Pi Day or St. Patrick's Day! You could even do a vegetarian version with vegetable broth in place of the beef stock. You can also use a great mushroom medley in place of the meat filling. So many ways you can make this yours. Any of these great vegetable mixture options topped with creamy mashed potatoes will remind you of the Irish pub! Here's how to make it!
Is Cottage Pie British or Irish?
Irish Cottage Pie, also known as Shepherd's Pie, is a savory British casserole dish made with ground beef or mince and potatoes. It has become a celebrated family favorite all across the United Kingdom and Ireland. This traditional dish dates back to the 18th century. Cottage pie became popular throughout Britain and potatoes became a staple crop in Ireland. The only real difference between shepherd's pie and cottage pie is the type of ground meat used. While shepherd's pie is made with lamb or mutton, cottage pie is made using ground beef. This Irish Cottage Pie recipe uses ground beef, vegetables and mashed potatoes to create a comforting, easy-to-make meal everyone loves.
What is the difference between a Cottage Pie and a Shepherds Pie
The main difference between Cottage Pie and Shepherd's Pie is the meat. A traditional Shepherd's Pie recipe uses chopped or ground lamb, while a Cottage Pie uses beef. Both of these dishes are savory British casseroles that feature a ground meat and potato topping, but the key distinction lies in the meat used. This Irish Cottage Pie recipe combines ground beef with frozen vegetables and Guinness or wine to create a delicious, hearty dish that will have your family asking for seconds!
What are the ingredients in Irish Cottage Pie recipe
To make an Irish Cottage Pie, there are several ingredients needed. This includes ground beef, flour, mixed vegetables, potatoes, onion, garlic, Worcestershire Sauce, Better than Beef Bullion, red wine, thyme, rosemary, milk, and butter. Some recipes call for tomato paste to be added to the meat mixture but this recipe has more of a thick gravy in the beef filling. Once all of the ingredients are gathered, you'll be able to make a delicious Cottage Pie that is sure to please any crowd.
Can I use frozen vegetables
Yes, you can certainly use frozen vegetables for this Irish Cottage Pie recipe! To make it even easier, you can use a bag of frozen veggies already cut, which will keep dinner prep simple. I usually choose a frozen bag of chopped vegetables that are a mix of peas, carrots, green beans and corn to give the classic Cottage pie filling. This is a handy, quick dinner casserole that is incredibly hearty, with beef and vegetables cooked in a savory gravy and topped with mashed potatoes.
Feel free to add what you like to the mashed potato crust. Think of things like sour cream, parmesan cheese, cheddar cheese, cream cheese and whole milk. In an Irish Cottage Pie dish you can really pick who is the star of the show.
Can I use wine instead of Guinness in this Irish Cottage Pie Recipe
The Irish Cottage Pie recipe is a classic dish that is full of flavor and texture. This traditional Irish dish is usually made with beef and Guinness, but for those who don't enjoy the taste of Guinness, a good red wine can be used instead. The red wine adds a deep, rich flavor and aroma to the dish that pairs perfectly with the beef and vegetables. Be sure to deglaze the pan with the red wine and broth to ensure all of the flavor comes through.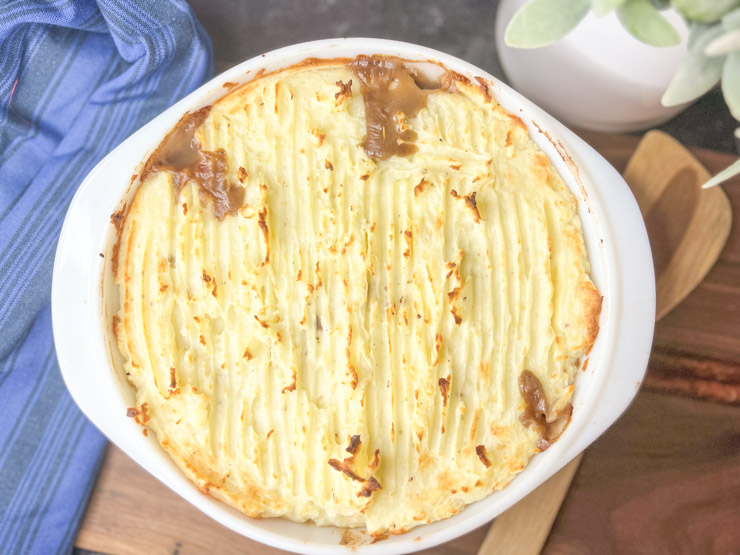 How to store leftovers
For the best results, it is advised to store the leftover Irish Cottage Pie in the refrigerator, covered airtight with foil or plastic wrap. Reheating should also be done with foil, and it is recommended to thaw frozen Cottage Pies in the microwave before placing them in the oven. This easy and tasty comfort food meal is sure to become a favorite at your family table, so you can always make extra and store it for later meals.
Low Calorie Substitutions
If you are looking for a lower calorie substitution, you can save over a 100 calories by simply replacing the ground beef with ground chicken. Especially if you were using 80/20 ground beef in the first place.
Calories Broken down:
1 lb hamburger meat 971 for 85/15 beef 569 for chicken
1 tbsp flour 28
1 cup frozen mixed vegetables 65
3-4 medium size potatoes for mash potatoes 483
1 small onion diced 41
2 cloves of garlic minced 12
1 tbsp Worcestershire sauce 15
2 tsp Better than bullion Beef 20
1/2 cup red wine 120
1 cup water
1/2 tsp thyme
1/2 tsp rosemary
Salt pepper to taste
1 Bay leaf
Milk for mash potatoes (about 1/4 cup whole milk) 37
Butter for mash potatoes 270
Total for beef 2,062 =  515.5 calories a serving if you do 4 servings or 344 calories a serving if you do 6 servings.
Total for chicken 1660 =  415 calories a serving if you do 4 servings or 277 calories a serving if you do 6 servings.
It just depends on how big you want your portions and if you will be serving it with something.
Irish Cottage Pie
This Irish cottage pie is so delicious and can also be made with ground chicken to cut calories.
Ingredients
1 lb hamburger meat   971 for 85/15 beef   569 for chicken
1 tbsp flour 28
1 cup frozen mixed vegetables 65
3-4 medium size potatoes for mash potatoes 483
1 small onion diced 41
2 cloves of garlic minced 12
1 tbsp Worcestershire sauce 15
2 tsp Better than bullion Beef 20
1/2 cup red wine 120
1 cup water
1/2 tsp thyme
1/2 tsp rosemary 
Salt pepper to taste
1 Bay leaf
Milk for mash potatoes (about 1/4 cup whole milk) 37
Butter for mash potatoes 270
Instructions
Brown hamburger meat with diced onion. Add garlic and cook for a couple more minutes. Don't forget to salt and pepper your meat.

Add flour and stir until incorporated. Cook for a couple of minutes.

Add Worcestershire sauce, Better than Bullion, wine, water, bay leaf thyme, and rosemary

Let simmer until liquid has reduced by around half. Stir frequently. Reduce more if you want a thicker sauce. I let mine reduce about 15 minutes.

While sauce is reducing, boil your potatoes

When potatoes are soft drain and add milk and butter to make mashed potatoes. These amounts will very. I used about 3 tbsp of butter and added milk until I got the texture I wanted. Don't forget to salt and pepper you potatoes

After beef mixture has reduced add to casserole dish.

Mix in frozen vegetables. My mix had corn, peas, green beans, and carrots

Smooth potatoes on top of beef mixture. Drag fork along top to create texture.

\Place in 400° oven for 10 minutes then put under broiler until top starts to brown. About 5-6 minutes
Follow us On Social Media
The Oklahoma Homesteader Facebook Page
U.S. Homesteading for Beginners Facebook Group
TheOklahomaHomesteader on Instagram